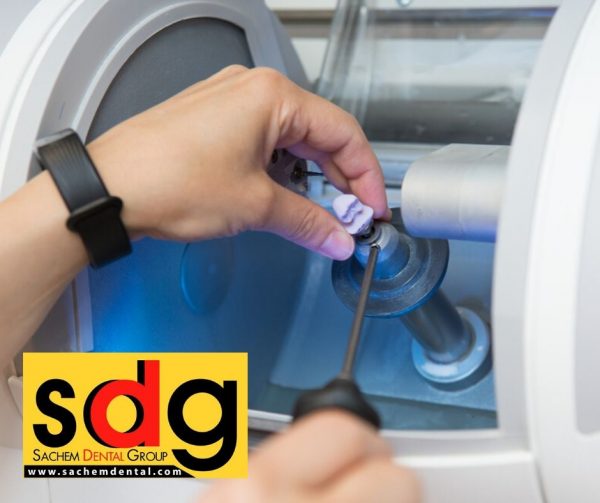 Do you have a broken or severely decayed tooth? Crowns provide maximum protection so that you can keep smiling with confidence. However, traditional crown treatments typically require at least two visits to complete. Fortunately, Sachem Dental Group has advanced technology to provide a single visit, same day dental crowns right here at our office.
Why Get a Same Day Crown?
Same day crowns provide the same level of protection and durability as traditional designs. But they save you time and get your smile's integrity back on track without extra trips to our Long Island dental facility. That means less time off work, no temporaries, and getting back to your normal diet in hardly any time at all!
CEREC Digital Dentistry
In years past, physical impressions or molds were used to replicate your natural bite for a lab to create a crown. But thanks to CAD/CAM 3D imaging, it's possible to capture a "virtual" impression that converts into a digital model of your bite. Once the scan is taken, we're able to use a milling machine to carve your restoration for an extremely accurate fit. The digital process eliminates the room for human error and provides a meticulous fit each and every time.
All of our CEREC crowns are carved from ceramic, for a metal-free appearance that blends in with your smile. The materials come in a variety of different colors, allowing our Long Island dentists to select the one that best matches your natural enamel.
CEREC technology has come a long way over the past several years, shortening the overall milling time and treatment length. Although the wait isn't long, it provides ample opportunity to catch up on other treatments you may need, lessening your total number of appointments.
Same Day vs. Traditional Crowns
A same day CEREC crown takes a two appointment process and rolls it into one. Since we can design, fabricate, and deliver your new crown in just one appointment, you're able to bypass additional trips to our office or the risk of something not fitting properly.
Single visit crowns:
Save you time
Match your teeth
Are highly accurate
Use digital scans (no gooey impressions)
Offer extreme durability
Can be created and delivered on the same day
Are compatible with dental implants
Although there are reasons when traditional crowns are best, getting them require extra trips to the office and working with a 3rd party lab. When you're in a time crunch or prefer to complete all of your treatment in one appointment, that's not an option. Plus, there's always a slight risk of something not fitting properly and having to re-impress, send models to the lab again, and starting the process over. That's not the case with an in-house crown design.
If you have a highly visible tooth that's in the front of your mouth, a lab designed crown may be more appropriate. Since there are additional measures a lab technician can make to blends of colors, hues, and textures, there is still a time and a place for traditional crowns in our office.
What it's Like to Get a Same Day Crown
If you've ever had a traditional dental crown, the process is split across two separate appointments. Since conventional crowns are made in a lab, the impressions are sent off and the final restoration comes back about two weeks later.
Same-day crowns eliminate the two step process. Everything is created, designed, and fitted right here in our Long Island dentist office. That way you can restore the tooth in one appointment and bypass the need for a 3rd party dental lab.
When you arrive for your crown appointment, the visit starts out like any other restorative procedure. We'll place a numbing gel to desensitize your soft tissue, then apply a local anesthetic to thoroughly numb that part of your mouth. Since it can take a few hours to wear off, make sure not to accidentally chew or bite down on your lips or cheek.
Next, we'll start to "prep" your tooth by removing the damaged enamel, decay, or existing restoration. Once your tooth is shaped in a way that a cap can slip over it, we'll take a digital dental impression. The small scanning wand records an accurate virtual model of your prepped tooth, which is then transferred into our crown design software. From there, we adjust the shape of your tooth as it relates to the rest of your mouth, then select the color of your new crown.
While you sit back and relax, your new crown is milled from a solid block of durable ceramic. Since the equipment is on-site, the process is streamlined as best as possible. The digital accuracy provides a highly customized fit. Once the restoration is fully milled, we remove it from the machine and bring it directly to the treatment room to bond it over your prepped tooth.
That's it! Your same day treatment provides a permanent restoration and there are no temporaries or follow-up appointments required.
Do I Need a Dental Crown?
Crowns provide an extra layer of protection over your worn or damaged tooth. That way, fragile or compromised tooth structure doesn't break down any further. When a filling, inlay, or onlay isn't enough to repair your smile, a crown provides that final line of defense.
Our Suffolk County dentists may recommend a same-day crown if you have:
Severe enamel wear
Large cavities or cracks
A root canal in that tooth
Irregular tooth shape or size
Extreme hypersensitivity
A large, compromised/leaky filling
Although crowns don't decay, it's still important to take care of them so that bacteria don't collect around the edges or seep underneath. Daily brushing and flossing are essential!
Save Time. Save Your Smile.
CEREC dental crowns allow you to preserve your broken or decayed tooth before the damage gets any worse. If you need a "cap" and prefer a single-visit procedure, contact Sachem Dental Group in Long Island. Our multi-specialty general dentistry team is happy to assist you on your journey to a healthier smile. Request your appointment today!