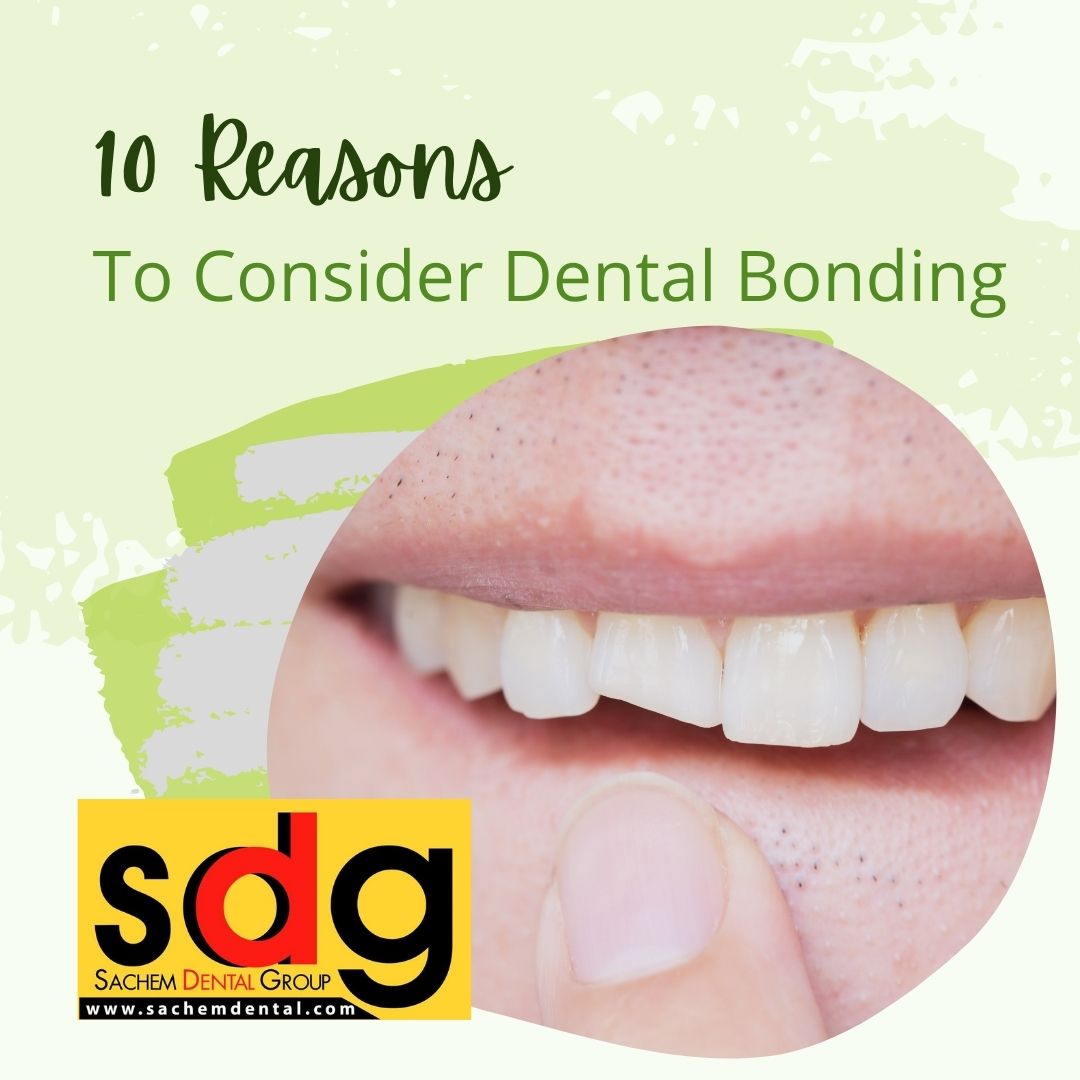 When it comes to cosmetic dentistry, the patients at Sachem Dental Group in Suffolk County have various choices to consider.  Dental bonding is among the most popular smile makeover techniques available.
What Is Dental Bonding?
When we say "bonding", we're essentially referring to a tooth-colored filling material (composite or resin) that's placed on your front teeth and shaped to the desired appearance. It essentially covers what's behind it.
Benefits of Dental Bonding
Here are ten common reasons why you may want to get your teeth bonded:
#1 Fix Chipped Teeth
If you just have a slight chip in your tooth, instead of covering the entire surface with a crown, our Long Island cosmetic dentists can place bonding material over the affected area.
#2 Cover Cracks Or Hairline Fractures
Thin, superficial stress fractures along the surface enamel can disappear with a layer of composite applied.
#3 Improve The Appearance Of Discolored Enamel
Tetracycline discoloration and other stains can be improved by adding the right shade of material over small areas. Instantly enjoy a new smile that makes you feel like a million bucks.
#4 Lengthen Short Teeth
"Peg laterals" is a condition where the second tooth on either side of the upper front teeth are smaller than normal. Oftentimes, these teeth look like baby teeth, when in fact they are permanent. Bonding adds bulk to these tiny teeth to help them look like they're supposed to.
#5 Close In The Spaces Between Gapped Teeth
Don't want to get braces as an adult?  Consider bonding! We can easily close in small gaps in your smile to give you a confidence boost.
#6 Change The Shape Of Crooked Or Pointed Teeth
Composite resin can be added to make slightly crooked teeth look straighter and pointy edges more subtle.
#7 To Achieve Uniformity
With a combination of bonding techniques used across several teeth, you'll have a more uniform and beautiful smile from one side to the other.
#8 Bonding is Non-Invasive
Those of you that don't like the idea of "dental work" will be pleased to hear that dental bonding requires little to no reshaping of teeth, and numbing is rarely necessary.
#9 Bonding is Economical
Bonding is a fraction of the cost of other cosmetic dental procedures, making it an affordable option.
#10 Fast Results
This treatment is completed in a single appointment ranging from 15 minutes to one hour 一 depending on the number of teeth you're having bonded. Enjoy same day results instead of spreading the treatment across a few different visits.
Dental Bonding in Suffolk County
If there's something that you'd like to improve about your smile, then we encourage you to take the first steps to discover what's possible.  Call Sachem Dental Group to schedule a consultation with our Long Island multi-specialty general dentistry team.  We've enhanced thousands of smiles in the 35 years that we've been serving Suffolk County. Contact us today to find out more about how we can help your smile look its best.