Reconstructive Dental Surgery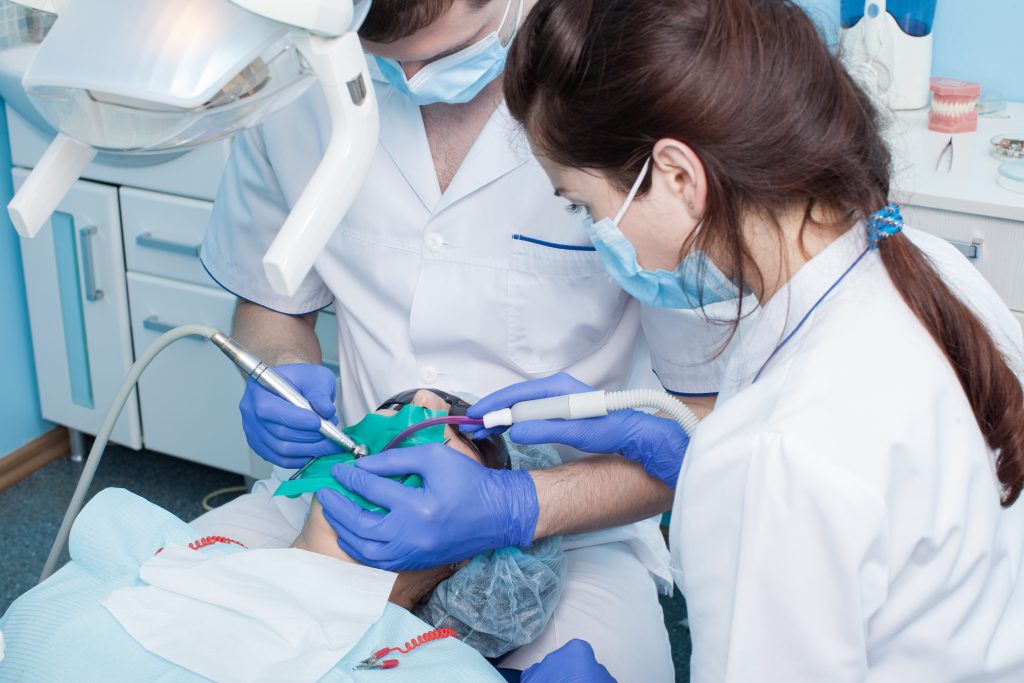 Most people think of seeing a dentist if they've experienced a dental injury, but what about something like facial trauma that calls for reconstructive surgery?
At Sachem Dental Group, our dentists and multi-specialty practice provides in-house treatments that extend beyond just the care of your teeth and gums. If you require reconstructive surgery due to traumatic injuries, accidents, or other conditions, we're happy to assist you in a comforting and discreet manner.
What to Do if You've Experienced Facial Trauma
The Long Island multi-specialty dentists at Sachem Dental Group are no strangers to caring for patients that have experienced oral and facial trauma. Suffolk County patients often turn to our practice if they've experienced an accident, illness, or injury from something related to incidents like:
Automobile accidents
On the job injuries
Domestic abuse
Oral cancer
Athletic activities
Depending on the extent of your facial trauma, our multi-specialty dental providers recommend keeping the following steps in mind:
Control Any Bleeding
Because the mouth and face have several blood vessels supplying them, the chances of heavy bleeding are very high. Depending on what the traumatic injury involves, you may find that the area bleeds severely. If it does, place a clean compress over the site and apply a firm amount of pressure to stop the bleeding. This may take several minutes. If you're on medications such as blood thinners or aspirin, in may take much longer.
Head to the Nearest Emergency Room
If you cannot get bleeding under control or are in severe pain, head to the nearest emergency room for any instance involving facial trauma. Long Island patients can always reach our oral surgery and dental providers for attentive care after they've received emergency treatment.
Inside of the emergency room, medical experts will work to control the bleeding and stabilize pain. If surgery is needed, they will likely have the general surgeon or on-call oral surgeon speak with you about what next steps to take (especially if there any broken bones involved.) Depending on the severity of the injury, they may even discharge you and have you schedule a follow up appointment to treat your facial trauma. Before consenting to surgery, you may want to reach out to our Suffolk County multi-specialty dentists to arrange care with our office.
Long Island Families: Ask About Oral Surgery
At Sachem Dental Group, we work with new patients and emergency facial trauma cases to provide fast and effective care for even the most complex of orofacial injuries.
If your emergency is not life threatening, we ask that you call our office immediately to find out if you can be seen the same day. Otherwise, it may be possible for us to see you at the hospital or emergency room, depending on the specifics of your facial trauma. Local patients can expect attentive and specialized care at all times, as we understand any type of orofacial injury can be life changing.
Choose your oral surgeon carefully, especially if you're undergoing any type of surgery at the hospital. The procedure and any secondary scarring can affect your quality of life and appearance for years to come. When you need the experience of a facial and oral surgery expert, the group of experienced providers at Sachem Dental Group should be one of the first practices that you call in regard to treatments for facial trauma and reconstructive surgery. New patients are always welcome.
Rehabilitating Your Bite
Facial injuries can often involve tooth loss. Reconstructive surgery involves more than just treating broken jaws or facial bones; it may also need to take things like missing teeth into consideration.
At Sachem Dental Group, we offer full mouth rehabilitation treatments and oral surgery such as jaw repair, dental implants, fixed crowns and implant dentures, among others. Our goal is to help you preserve your overall health, enhance your facial profile, and better your quality of life.
Through advanced technology and quality restorative materials, your rehabilitated bite should look and feel as beautiful as possible. We want you to be comfortable and confident about the work we've done and will only advise specific treatments that we would want for our own smiles. Whether it's replacing missing teeth or repairing lacerations after an accident, your long-term health and appearance are at the forefront of everything we do.
When you require something complex as a facial or reconstructive surgery, you should see a team with years of experience in such complicated treatments. Our Long Island dentists have been serving Suffolk County for over 35 years. We treat you and your family as if you were a member of our own.
Sedation During Reconstructive Surgery
Having any type of surgical procedure done can make a person feel anxious or even scared. Our licensed sedation dentistry providers offer safe and comfortable solutions to help you relax.
Thanks to sedation dentistry, you can tune out what's going on and catch up on all of the dental care you need — including oral and reconstructive surgeries — before you know it, the procedure will be over, and you'll be on your way home to recovery.
Please be sure to let us know if you have any drug allergies or underlying medical conditions, as these may affect the type of sedation you receive. Our practice provides inhalation (nitrous oxide) sedation, oral sedation, IV sedation, and general anesthesia. During your consultation we will discuss the advantages of which ones are most appropriate for your situation and upcoming treatment.
When You Don't Know, Just Ask
Sachem Dental Group has a reconstructive surgery team that's happy to assist you during this emotionally charged life event. Our Long Island dentists will be at your side to ensure gentle and efficient care, so that you can get on the road to recovery as soon as possible. We provide care to Suffolk County patients of all ages, including children.
Whether you're in immediate need of care or require secondary surgery after a procedure in the local hospital, call our experts today for assistance. Flexible financing options are available!