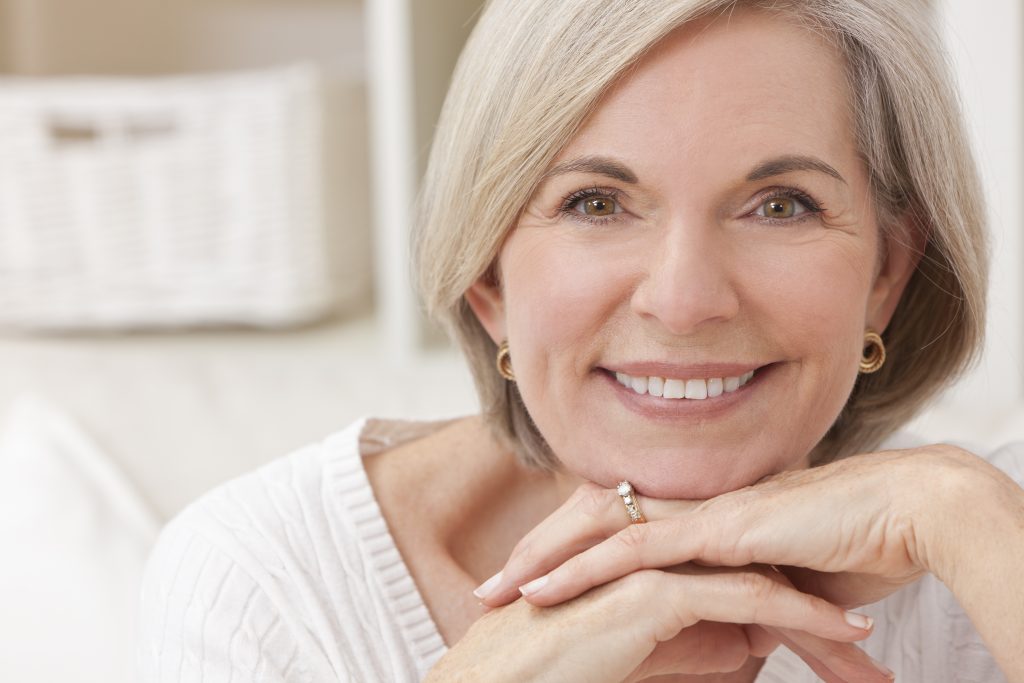 Getting Dentures in Long Island
Are you looking for an efficient and immediately cost-effective way to replace all of your missing teeth at once? Many of our Suffolk County patients choose dentures because of the affordable and straightforward solutions that they offer.
Types of Denture Options in Suffolk County
While a denture is a removable prosthesis that snaps in and out of your mouth, there's actually more to them than what meets the eye. Today's modern dentures come in a variety of designs and fits to choose from. Even if you suspect that a particular type of "plate" is the right one for you, you'll want to speak with our Suffolk County dentists to determine if another may be even better.
Some of the most popular types of dentures you'll find in our Long Island practice include:
Traditional Full "Plates" — Full dentures cover your entire jawline, resting directly on top of the gums when no natural teeth remain. Their acrylic base is made by taking an impression of your mouth, so that the under-side of the denture can create a seal between the prosthesis and your gums (gingiva.)
Lower dentures follow the shape of the jaw, with an opening for the tongue. Upper dentures, however, cover the entire roof of the mouth for added stability.
Traditional Partials — When you're able to retain natural teeth that are still healthy and structurally sound, there's no need to have them extracted for a full denture to fit. Instead, a partial denture can be created that will snap into place around your teeth. This design allows the denture to be much smaller and helps to keep it in place because there isn't a need to rely on suction.
Implant Supported — Today's Long Island dentures can also be made to snap on top of dental implants. There are two types of implant denture options available:
Stabilized overdentures snap on and off of 2-4 implants, which are used to keep the plate from slipping around throughout the day. The strategically placed implants eliminate the need for adhesives or paste, making your denture more comfortable to wear and eat with. Existing dentures can sometimes be retrofitted to become overdentures.
Implant supported dentures are more like an extended dental bridge, in that they are permanently affixed within the mouth and only follow the contour of the gumlines. There is no acrylic plate that rests against the gums, or prosthesis to take in and out. As few as four implants total can support a full arch hybrid denture design.
What are Dentures Made Of?
A denture can be made of various types of materials, depending on what your budget and aesthetic needs are. Most full dentures are made of pink and white acrylic that matches tooth and gum structures. Partial dentures can also be made of acrylic, but some have a metal base (and metal clasps) for added stability. Higher profile dentures boast porcelain materials that mimic the luster and hue of natural enamel.
Other Procedures to Keep in Mind
Getting dentures is a very straightforward procedure. However, there are some instances where other services may need to be performed prior to (or alongside of) your denture placement in order to make it a success.
For instance, if you're getting full dentures, any existing teeth that you still have will need to be extracted. Your mouth will also need time to heal, before the final denture fit is determined. There are options available to have an immediate denture placed on the same day as your tooth removal, but the prosthesis will need to be relined or replaced once you've finished healing.
If you're getting implants to support your new denture, the process can take a few months to complete. It's vital that your implants fully integrate with the bone supporting them, otherwise the pressure of an overdenture may jeopardize their long-term success.
In some cases, additional bone grafting may also be needed at the time a tooth is removed or your new implant is placed.
How Long do Dentures Last?
Caring for your dentures — as well as the gums and bone underneath them — can help your prosthesis last as long as possible. Conventional removable dentures may need to be replaced every 5-10 years, depending on your circumstances.
Because acrylics do wear out over time, updating your prosthesis is essential to maintaining a balanced diet and comfortable speaking patterns.
Loose dentures should be adjusted and relined as your oral anatomy changes. Because tooth loss facilitates shrinkage (resorption) of your jaw, over time it's normal for a denture to not fit as well. Placing a new liner in the denture can help it to rest comfortably in place and improve the suction necessary to keep it there.
Long Island Denture Repairs
Even if you're not one of our existing patients, our multi-specialty dental team can help you if you have a broken denture. Whether you've dropped it on the floor or seem to have cracked part of your plate, we'll do everything possible to help salvage or repair your prosthesis. Denture emergencies often require same day care.
Are Dentures Right for You?
Many people feel that getting dentures will solve all of their dental problems. If you've had a history of cavities or aggressive gum disease, it can be tempting to "just have all of your teeth pulled" and get a new denture. However, our experienced dentists know this is life changing experience that affects nearly all of your daily activities. We'll work closely with you to determine if your other teeth are healthy enough to preserve, and if not, if you're a good candidate for dentures.
Cost of Getting Dentures
During your consultation at Sachem Dental Group, we'll create a customized care plan that outlines the cost of your proposed denture design, plus any other procedures that may be needed (such as extractions, sedation dentistry, or implants.) Long Island dentures are very affordable, but we want you to be aware of all of the fees associated with the treatment.
We'll also provide you with a detailed estimate of what your insurance covers. Flexible payment options are available for your convenience! Call today for more information.