Smile Makeovers in Long Island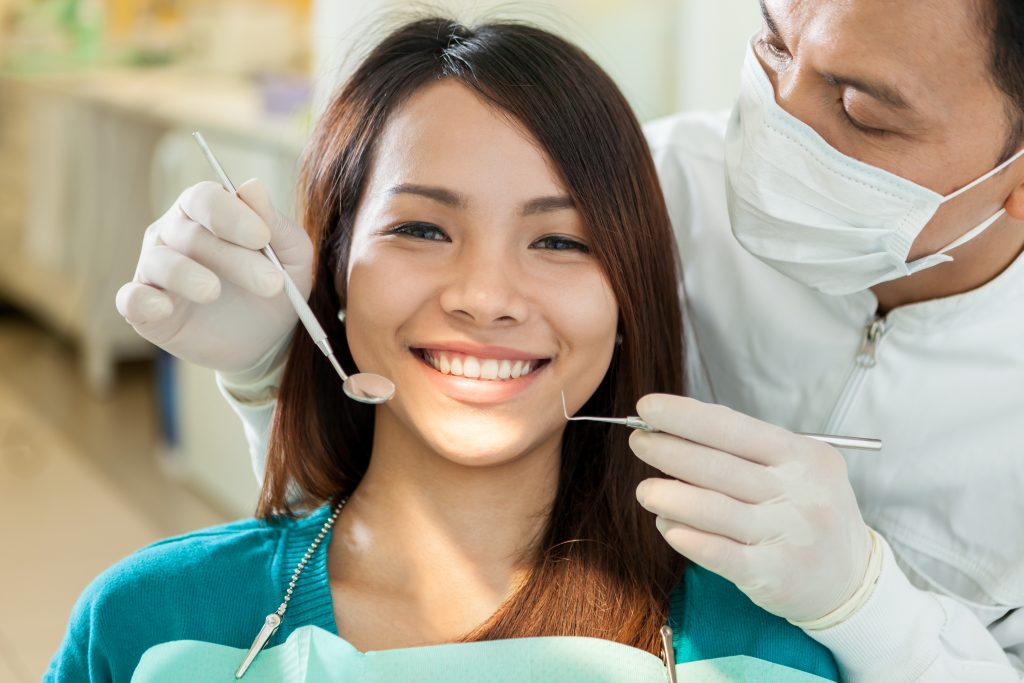 For over three decades, our Suffolk County dentists have been changing the lives of our patients through customized smile makeovers.
Today's smile makeovers are as simple or complex as the needs, budget, and oral health concerns of our patients. Whether you're hoping to quickly brighten the color of your smile or make all of your teeth look straight, our multi-specialty general dentistry practice has the cosmetic options that you're looking for.
Commonly Combined Treatments
For a smile makeover, it's common to combine various types of aesthetic dental procedures to achieve the overall "look" you've been searching for. Some of the more popular types of cosmetic treatments that we incorporate, include:
Teeth Whitening — Lightening your healthy tooth enamel provides a great template for enhancing other areas of your smile. Professional teeth whitening can get your smile brighter than any product that's sold over the counter. From there, additional restorations can be matched to the lighter shade of teeth (since white fillings or bonding can't be whitened after they're placed.)
Porcelain Veneers — When it comes to making the most dramatic impact on the way your teeth look, dental veneers are second to none. Each hand-designed restoration is crafted in a way to make the tooth it's applied to look whiter and straighter. In most cases, veneers are placed in sets of six or more.
Gum Lifts/Recontouring — Beautiful teeth are just one part of a smile makeover. Our Long Island cosmetic dentists know that the "frame" around them is just as important! By adjusting the contour of your gumlines, we can reveal a fuller, even looking appearance and treat problems like gummy smiles.
Dental Bonding — Conservative and extremely effective, composite bonding is a simple procedure that covers minor flaws and defects in teeth, essentially erasing them from your smile. When you're able to hide a chip or gap in your tooth, your overall appearance benefits! Having a tooth bonded is a non-invasive procedure. If only one or two teeth are the problem, then bonding may be all that you need!
Ceramic Crowns and Bridges — Durable and cosmetically pleasing, ceramic "caps" and bridges serve to repair broken or missing teeth when a smaller filling or removable partial denture just won't do. They can also be placed on top of dental implants. Each ceramic crown/bridge is designed so that it's both beautiful and functional.
Dental Implants — Although implants are a restorative treatment rather than a cosmetic one, they serve an extremely important purpose: replacing missing teeth. When you've lost a tooth or had one extracted, choosing to get an implant provides a permanent solution for the open space in your smile.
Orthodontic Treatment — Straightening your healthy teeth can give your smile and facial shape a more pleasing profile. Options such as clear aligners make the process practically invisible.
Benefits and Risks of Smile Makeovers
Smile makeovers are typically for aesthetic reasons, but they can also be used in instances where there are functional concerns (such as broken or missing teeth.) At our multi-specialty general dentistry clinic, we aim to deliver all restorative services in the most cosmetically pleasing manner. But with smile makeovers, we're essentially focused on taking a healthy, stable smile and turning it into something that you'll be proud of showing off.
Many of our Long Island smile makeover patients invest in treatment as a way to improve their confidence or make a great impression in their professional lives. Studies show that people with beautiful teeth are actually more likely to get hired, earn a higher salary, and seen as friendlier. It could be because their smile comes across as improved health and happiness!
But are there risks of smile makeovers? A few things worth considering are that if restorations like veneers or crowns wear out, you'll need to have them replaced when they do; it's not a reversible process that you can take off at a later time. Rather, it's an investment in your smile for years to come.
Cost of a Smile Makeover
When trying to determine smile makeover costs, Sachem Dental Group will work with you closely to create a plan that fits your specific financial needs and budget. In most cases, we can give you a few options to consider, with budget, mid-range, and premier pricing. Each option will have different combinations of cosmetic treatments that we can discuss as pros/cons compared to the others.
After your consultation and treatment planning phases, you'll know the exact cost of your smile makeover and be able to schedule the upcoming procedure whenever you're ready to move forward.
Since dental insurance doesn't typically cover cosmetic procedures (unless they're for restorative purposes, such as crowns) most of our patients choose to finance their smile makeover on a month-to-month basis. Depending on what treatments you need, we offer flexible payment plans and budget-friendly services that fit just about everyone's needs.
Candidacy for Smile Makeovers
Before starting any kind of cosmetic dental treatment, we'll need to check the way your teeth bite together and if other infections are present. If you have existing areas of tooth decay or gum disease, those will need to be treated first. Having a healthy foundation to support your smile makeover is key to protecting your new investment.
Additionally, most smile makeover patients that we see in Suffolk County are adults or older teens. It's important that the teeth are fully developed, so aesthetic procedures are typically more conservative if being applied to developing smiles in younger patients.
The Beautiful Smile You Deserve
Do you ever feel too embarrassed to smile in photos or laugh around new acquaintances? The way your teeth look can play a tremendous role in your social and personal life. If you're ready to make a change, it's time to schedule a smile makeover consultation with our multi-specialty general dentists in Long Island.
Visit Sachem Dental Group today to find out how we can help you look and feel your best!