Dental Technology Makes Quality Care More Efficient Than Ever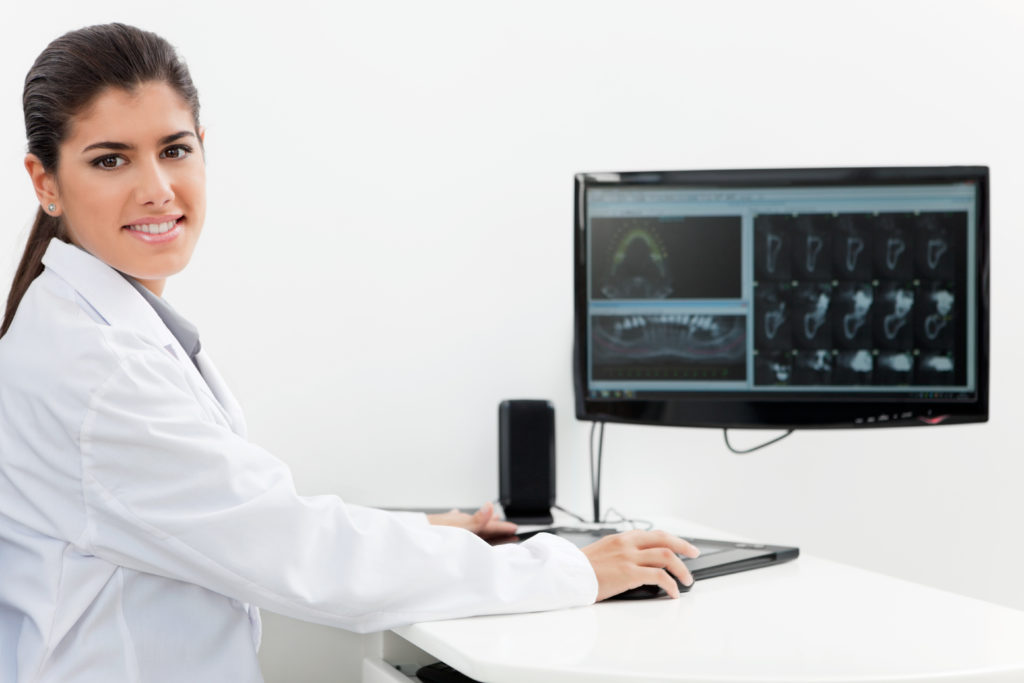 Modern dental technology has grown leaps and bounds over the past two decades. From the way we create and fabricate dental restorations to how quickly and comfortably our patients can be treated, our investment in advanced techniques has completely changed the way we're able to accommodate a relaxed and high-quality experience for Suffolk County families.
Technological advancements physically allow us to provide:
Higher quality treatments
Less-invasive procedures
Earlier diagnosis
More affordable care
Earlier preventative strategies
More accurate restorations
Efficient care and same day treatments
Diagnostic Technology for Screenings and Treatment Planning
Advanced imaging capabilities and low radiation digital X-rays allow us to safely screen for cavities without posing a safety risk to our patients and staff. When issues are caught earlier, it enables us to provide preventive services rather than invasive (or costlier) restorative procedures. With digital X-rays we can also save our patients valuable time, because there's no need to process physical films (or keep harmful chemicals in our practice.) The images are available instantly, for us to share and co-diagnose our findings alongside of the patients that we're seeing. They also use up to 90% less radiation than traditional radiographic films used in years past.
Laser diagnostic tools can even measure the density of tooth enamel before active cavities can be seen clinically or on an X-ray. With the laser, a light beam is used to measure the control density of a healthy tooth, and then applied to teeth with suspected demineralization, allowing us to measure compromised tissue before a physical cavity has eroded any of the structure away. In such a case, we can provide therapeutic fluoride and other remineralization treatments that essentially "reverse" the cavity in the earliest stage (preventing you from needing a filling a few months down the road.)
Advanced oral cancer screening technology allows us to pinpoint pre-cancerous and potentially pathological tissue before it can be seen in a clinical exam. Because oral cancer is an extremely dangerous disease affecting thousands of Americans each year (even people who do not use tobacco products or drink alcohol,) early screenings are the most important step in an effective treatment plan.
3D CT (conebeam) scanning and imaging allows us to digitally map out a computerized plan to place dental implants, providing less-invasive surgery and an option for patients who are not generally considered to be candidates for such treatments. By being able to view the anatomy of the oral structures in a three-dimensional environment (rather than with two-dimensional X-rays) we can map out the precise placement of where implants can be set. Even a surgical guide can be created that allows for accurate placement in an extremely short timeframe. This reduces the length of surgery, speeds up recovery, and makes implant therapy available to people who might have otherwise been turned away by a conventional implant provider.
Same Day CEREC Dental Restoration Creation and Delivery
If you've heard about CAD/CAM and 3D milling or printing, you might be surprised to know that it's been used in modern dentistry for over a decade.
With CEREC technology, we're able to take a digital "impression" of your prepared tooth and electronically transfer the 3D image to an in-house milling machine. From there, we select a color matched block of ceramic, which CEREC precisely carves to become a customized dental crown, bridge, veneer, or more.
The most significant advantage of having a CEREC crown or bridge made is that it only takes one appointment, instead of two. Traditional crowns require an impression, sending the model off to a lab, and waiting one or two weeks for the final restoration to be delivered, fitted, and bonded into place. CEREC combines that entire process into just one procedure, allowing you to walk in and out with a complete crown prep and placement in the same day. For many individuals, this means saving money by preventing extra time off of work.
Plus, CEREC capabilities prevents the chance of changes in dental materials between your preparation and placement visits. There isn't a risk of having to get the crown re-made or re-fitted, because digital scanning capabilities are so precise. CEREC essentially eliminates 100% of the risk of possible human error during your crown and bridge treatment.
Laser Dentistry for Soft Tissue and Drill-Free Procedures
Dental lasers allow our Long Island dentists to perform accurate, minimally invasive treatments that enhance the overall dental health of our patients.
For example, with soft tissue laser therapy we can:
Treat cold sores and drastically shorten recovery time
Non-surgically treat areas of periodontal disease, improving response to therapies and cleanings
Recontour gumlines for an aesthetically pleasing appearance, without painful surgical methods
In many cases, these procedures can be completed without the need for local anesthetic or sedation, because of how comfortable they are compared to more conventional methods.
Hard tissue dental lasers allow us to treat areas of tooth decay without manual removal with electronic tools. Diode lasers remove small, shallow cavities and decontaminate the enamel surrounding them, allowing us to place the smallest white fillings possible in nearly any area of the mouth. It's just one of the ways Sachem Dental Group offers comfortable, minimally-invasive services to our Suffolk County patients.
More Comfortable Care
Your experience at the dentist's office shouldn't just revolve around having healthy, beautiful teeth; it should also reflect a positive environment where you feel relaxed and confident with the team that's treating you. We've taken steps to incorporate technology that improves the comfort of your care, even if you typically suffer from dental phobia or anxiety. Plus, you can elect to incorporate sedation services to make your next treatment something you'll rest easy about.
At Sachem Dental Group in Long Island, our technological investments allow us to do what we do best: care for the smiles and oral health needs of Suffolk County families. For over 35 years, we've provided quality care that's individualized to the specific concerns of the patients we serve.
Call our practice today to schedule your next exam or consultation.