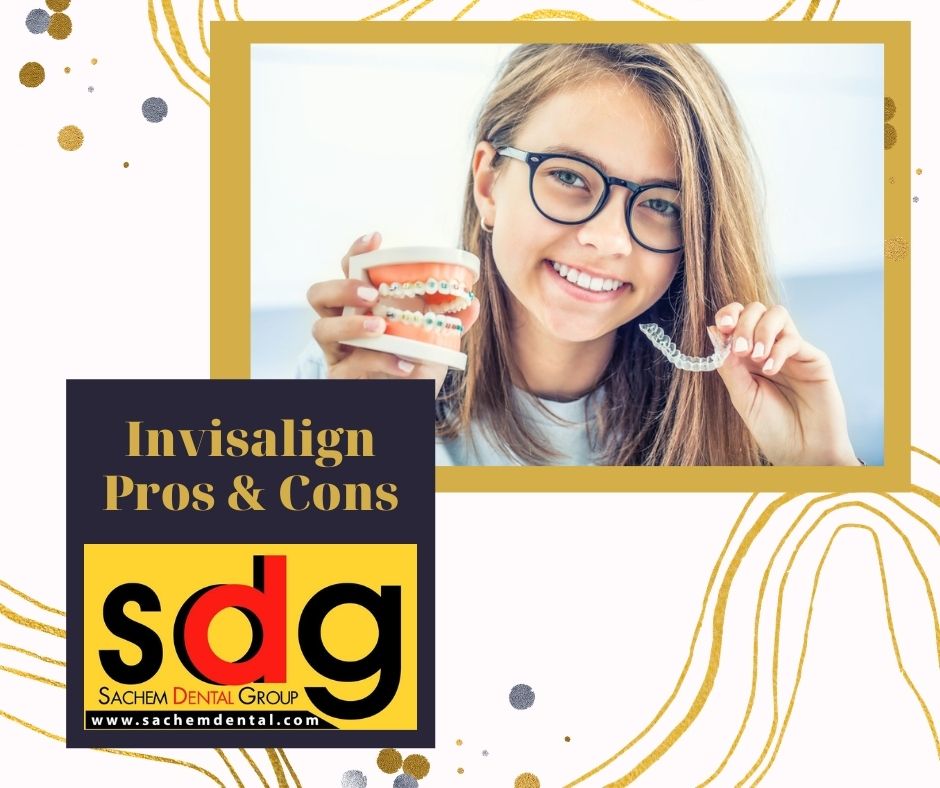 Invisalign is one of the most technologically advanced orthodontic treatments in Long Island. But is it perfect? Not for everyone. Before you select the best type of braces or aligners for your situation, it's important to make yourself aware of the benefits and risks of Invisalign on your teeth.
Discreet and Nearly Invisible
The best aspect of Invisalign is that it's designed to be invisible on your teeth. Although the aligners are slightly visible from up close, their translucent design is hard to pinpoint during a casual conversation with other people. Invisalign is about as "invisible" of braces as you can get.
Comfortable to Wear
Since Invisalign uses smoothly fitted aligners to move your teeth, you don't have to worry about the fuss of metal appliances. That means no irritating brackets or wires rubbing the inside of your lips and cheeks (and no orthodontic wax to cover rough spots.) Occasionally the edges of the aligners may feel slightly rough, but we can smooth them off if needed.
No Impact on Your Eating Habits
A traditional orthodontic patient will have to significantly alter their nutritional habits. Anything hard, crunchy, sticky, or acidic could cause a bracket to pop off. But with Invisalign, you remove the trays and eat whatever you'd like!
Move Teeth from Every Direction
Orthodontic wires move your teeth from one direction. Invisalign trays apply pressure from every side, providing consistent and precise tooth movement based on the digital treatment plan we've created.
Gradual, Consistent Tooth Movement
Since you change Invisalign out every two weeks, the aligners are gentler on your smile than having braces "tightened up" every six weeks. The gradual tooth movement is gentler on your mouth, reducing soreness throughout the course of your treatment process.
Fewer Trips to the Dentist's Office
Aside from being practically invisible, one of the biggest perks our Suffolk County Invisalign patients get to enjoy is a lower number of appointments during treatment. Since Invisalign isn't "adjusted" every month like conventional braces, we won't have to see you in our office as frequently. Our Long Island dentists send the aligners home with you in advance, with instructions on when to progress to the next set. That way you'll only need to stop by for a brief check every 2-3 months and pick up the next sets of aligners.
Digitally Mapped Care Plans
Invisalign technology uses 3D virtual imaging and CAD/CAM technology. This enhanced perspective makes it possible to digitally "move" teeth within the treatment software before you even start the Invisalign experience. The systematic planning process allows for highly accurate care, decreased time in aligners, and facilitating a predictable experience. You'll be able to find out how long the start-to-finish process should take before you even commit to treatment.
If You Lose or Break an Aligner
Accidents happen. Misplacing an aligner — like at a restaurant or in a school cafeteria — could set you back by a couple of weeks. Depending on where you're at in your aligner cycle, we may need to order a replacement tray or move you forward or back to the next/previous set of trays. Always keep your last pair of aligners just in case of an emergency such as this. Worst case scenario, your treatment may be slightly delayed.
Aligners May Accumulate Buildup or Stain
You'll want to carefully clean your Invisalign trays each day to avoid tartar buildup, plaque, stain, and discoloration. Clean them as directed at least twice per day. If you notice residue, you can also use an effervescent denture cleanser to loosen the buildup prior to brushing it away.
Remember to remove your aligners each time you eat or drink anything other than water, and always clean your teeth before putting the trays back in.
Even with occasional buildup, it's easier to clean your teeth with Invisalign than it is with conventional orthodontic appliances.
The Plastic May Warp
Never store your Invisalign aligners in a hot car or use hot water to clean it. The high temperatures can cause permanent warping in your acrylic aligner. Never attempt to bend the tray back, as you may inadvertently affect the pressure on those affected teeth.
Always clean your aligners using cool or lukewarm tap water to prevent warping.
If You Don't Follow Instructions Properly
Some people make the mistake of trying to speed up Invisalign treatment by changing aligners out early. Although it seems like an innocent idea, moving your teeth too quickly can result in serious consequences. As a result, you can experience relapse, bone loss, or require re-treatment due to atypical tooth movement patterns. Always follow your at-home schedule as directed.
The Aligners Can Harbor Bacteria
One of the reasons why our Long Island Invisalign dentists say to never eat or drink with the aligners in your mouth is because food and acids can get underneath the trays. And if you wear the aligners for hours after you've snacked, the bacterial plaque and other residues can be detrimental to the future of your smile. Be sure to remove your trays and rinse your mouth, otherwise, you run the risk of a high rate of tooth decay.
They're Not for Everyone
There are certain criteria that every Invisalign patient has to meet. If you have serious crowding or gaps, we will need to evaluate your bite on a case-by-case basis to determine if you qualify.
Similarly, Invisalign works well for responsible teens, but may not be ideal if your child has a difficult time keeping up with things. If they seem a bit forgetful, there's always a risk of misplacing (and losing) their Invisalign tray.
Suffolk County Invisalign | Affordable Aligners
Sachem Dental Group provides comprehensive Invisalign orthodontics in our Long Island practice. As a preferred Invisalign office, we can help you determine whether you're an ideal candidate and give you an estimated timeframe for your specific case. No strings attached!
Find out if Invisalign is right for you (or your teen) today. Contact Sachem Dental Group to reserve a complimentary Invisalign consultation.