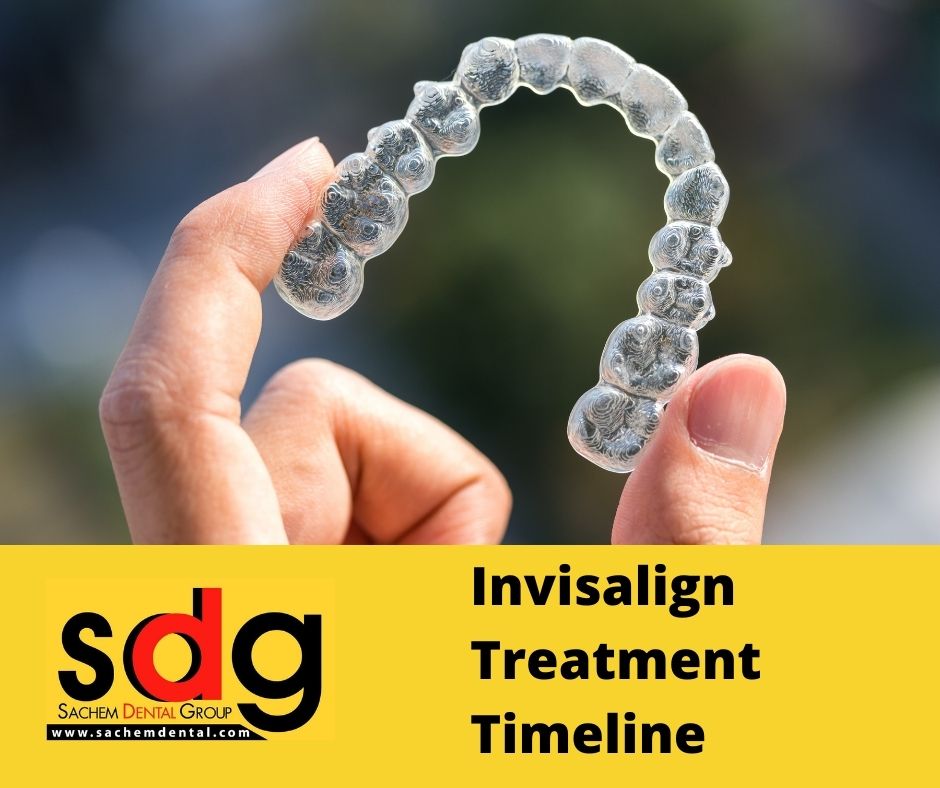 Do you have crooked teeth that you would love to finally do something about?  Are you hesitant to get braces because you're hesitant about being seen with metal brackets and wires on your teeth? If you're like a lot of Suffolk County residents, then you probably answered, "yes."  The good news is that rather than wearing traditional braces, you can still enjoy the smile you've always wanted with Invisalign. This clear aligner orthodontic process is so discreet that no one will have to know you're in "braces."
What Is Invisalign and How Do Invisalign Clear Aligners Move Teeth?
Invisalign is a state-of-the-art orthodontic treatment that uses removable plastic aligners (sometimes called trays) to move your teeth.  The aligners are thin and clear, making them virtually invisible.
All of the aligners that you need will be planned out at the beginning of your treatment. Your entire Invisalign process will be made in advance. Each pair of aligners is worn for a short period of time and the shape of each varies slightly, as they gradually move your teeth. The transition is precise, detailed, and takes a period of time to complete. These smart trays are designed to apply the right amount of pressure to specific teeth, at the right time, until the desired alignment is achieved.
Long Island Invisalign Consultation
The first step toward straightening your smile is to come in for a consultation. Our Suffolk County Invisalign dentists will evaluate your teeth and determine if you're a good candidate for Invisalign. During this visit, be open with us regarding concerns and what you would like to address, so that we can provide you with the best treatment options possible.
The Treatment Planning Phase
If we decide that Invisalign is right for your needs, then we'll proceed with the following step by taking a 3-D image of your mouth using an intraoral scanner. Not only do these virtual scans work better than impressions 一 but most patient's appreciate not having to fill their mouths with gooey material that might irritate a sensitive gag reflex. Digital scans are highly accurate and comfortable.
The digital models of your teeth, combined with Invisalign's advanced software, allows us to present you with a proposal of what your personal smile could look like after completing treatment – before you've even committed to treatment at all! At this point we can tell you about how long the overall treatment will take.
Once you're ready to move forward with treatment we'll give the technicians at Invisalign the go ahead to fabricate your custom clear aligners.  Typically, it takes about two weeks for your set of trays to arrive at our Long Island dentist's office. We'll send them home with you to wear, allowing you to progress your treatment on your own. But don't worry, we'll be with you every step of the way, ensuring that you're staying on track with your orthodontic therapy.
How Long Does Invisalign Treatment Take To Complete?
The length of time that it'll take for your new smile to be complete depends on your specific needs and the complexity of your case.  During the treatment planning process, we'll determine how long you'll wear each pair of aligners (typically one to two weeks), and how many there will be 一 giving us and you a pretty accurate outlook on when your treatment will be complete.  Overall, you could be looking at anywhere from a few months to a couple of years.  Here are some more specific examples:
Short Term Ortho (3-6 Months)
If you need an insignificant amount of movement, the treatment takes less time. For instance, you may want to address minor crowding or crooked front teeth. You could possibly finish your treatment in less than six months. Some patients only want to straighten the top teeth that are visible when they smile  一 doing so can possibly be a quick and viable option for certain individuals (specific criteria must be met.)
Average Case Time (12-18 Months)
Most patients have a combination of angles, crowding, crookedness, and gaps throughout their mouth that all need to be treated simultaneously.  These are still very manageable with the help of Invisalign. The average length of time to complete your treatment is 12-18 months.
Moderate to Severe Tooth Movement (18-24 Months)
Complex issues can also be addressed with Invisalign clear aligners, however, a more realistic timeframe for a case like this is 18 – 24 months.  An example of this type of case is a severe overbite or significant crowding/leaning/tilted teeth.
How To Avoid Relapse
After you've completed your Invisalign treatment, you'll want to ensure that your teeth stay in place and don't drift back to where they came from.  To prevent relapse, we'll create a custom Vivera retainer set for your new smile.
These retainers look similar to your Invisalign aligners, or other typical retainer trays, however, Vivera retainers are made specifically for Invisalign patients and are 30% stronger than your average retainer.
As a maintenance protocol, we recommend that you wear your retainers every night while you sleep.
Worried that you may lose your retainer after a while?  Invisalign has already planned ahead and addressed this issue by automatically making two sets of Vivera retainers at a time. So, whether you lose yours or it's time for a fresh pair, we've got you covered.
In addition to having two sets of retainers made together, Invisalign will keep your 3-D scan on file so if we need to have more trays made, all we have to do is let the technicians know and fabrication will start immediately.  There's usually no need for another scan or impressions of your teeth.
Invisalign In Suffolk County
You don't have to go to a Long Island orthodontist to straighten your teeth with Invisalign. The experienced dentists of Sachem Dental Group are trained to provide a full spectrum of dental care under one roof 一 including clear aligner therapy.
Your new smile starts with a consultation, so pick up the phone and schedule an appointment today!      When you visit our office, you'll immediately see why Long Island residents have been trusting us for over 35 years to take care of their oral needs. We look forward to meeting you.