Is it Usual to Combine Different Dental Treatments to Make Over My Smile?
Each time one of our Long Island dentists discuss a smile reconstruction (full mouth rehabilitation) case, it's common to talk through the different types of treatments that are appropriate for the situation.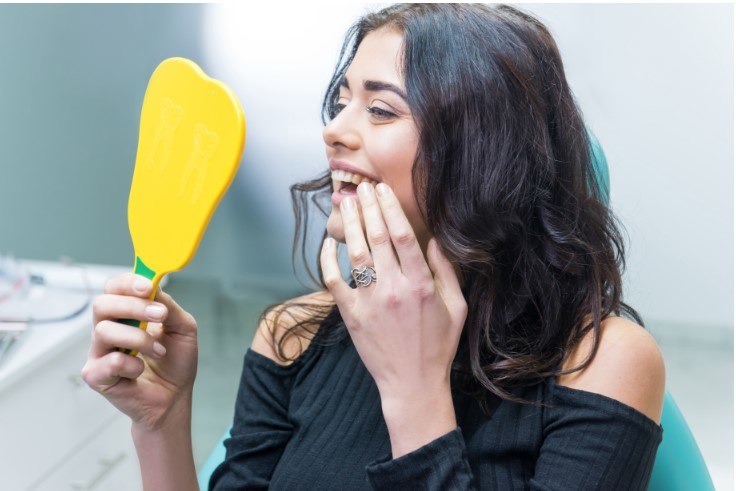 Sometimes, it's not just one single procedure that can give you the results you're looking for. Rather, it might be a combination of a few (or several) different treatment strategies.

For instance, maybe you need to replace several front teeth. But in the meantime, you want the replacements to be brighter than the color of your original teeth. To do that, we'll need to whiten/bleach your healthy teeth before matching the porcelain for your new bridge or dental implants.

In other cases, you may have a broken tooth that's surrounded by teeth with minor gaps or aesthetic flaws. To get the best overall restorative results, we might recommend placing porcelain veneers on your healthy teeth but using a full coverage ceramic crown over the tooth that's damaged. Since all of the restorations are made at the same time and by the same dental lab, they'll offer the most consistent coloration across your mouth. It works better to complete them together, than to fix one tooth and try to come back later to match the adjacent restorations.

An Individualized Care Plan
Using a tooth-by-tooth approach, our Suffolk County multi-specialty general dentistry team will weigh the pros and cons of different types of treatment to help you find the best combination for your overall smile. Each case is unique, so it's not possible to say what worked for one person will work for someone else. Your smile is like a fingerprint, in that it's unique to your own anatomy. That's why the aesthetic plan needs to be customized at such an individual level.

The types of restorative or cosmetic treatments that we combine will depend on several factors, such as:

Your timeline
Overall goals
Functional needs
Budget
Fortunately, we can give you varying options to think about. You might even decide to take a couple of different treatment plans home with you to discuss with your family and friends before settling on the one that's best for your teeth. Investing in your smile's future — especially when it comes to full mouth reconstruction — isn't a decision anyone should rush into. But at the same time, putting necessary care off can increase the overall costs of your dental treatments. Knowing your options and being able to think over them can help you feel more confident before it's time to move forward with treatment.

Need a Restorative Dentist?
Want to find out which types of treatment can be combined for your smile's needs? Contact Sachem Dental Group in Long Island today. Our multi-specialty general dentistry team has been providing quality services in Suffolk County for over 35 years. Call us today to experience the difference for yourself! New patients of all ages are always welcome in our office.