How much does it cost to have a dentist whiten your teeth? Depending on whether you opt for traditional take-home whitening trays or an in-office treatment, the cost can vary by a few hundred dollars. Both are extremely affordable cosmetic options that can be customized to fit your budget.
Is one better than the other? It depends on what you're looking for. One is more affordable and flexible, while the other costs are just a slight bit more but provides faster results.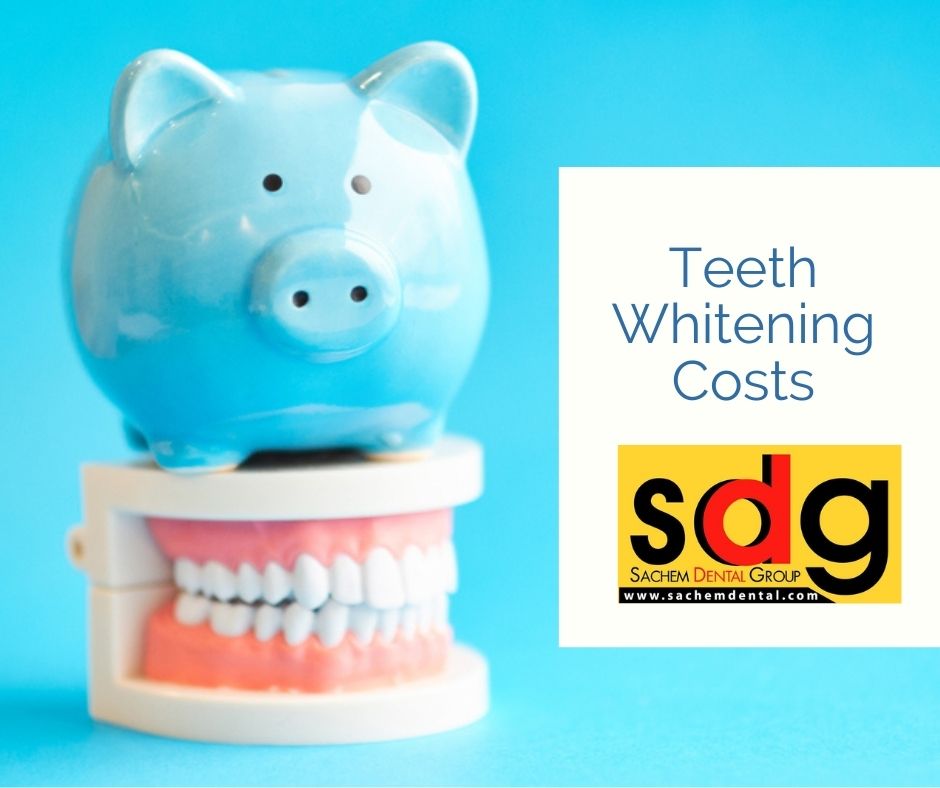 Professional Teeth Whitening Costs
Depending on the type of whitening system you're choosing, average prices range anywhere from $200 to closer to $500 or more. From time to time we also run teeth whitening specials or limited promotional offerings when paired with other services.
Take-home whitening kits cost less up-front than an in-house treatment. In-office whitening is usually at least a few hundred dollars more than a tray system. The tradeoff is that it provides you with same-day results and saves you significant time.
The modest cost of professional teeth whitening is still more cost-effective than commercial kits. The type of gel used, concentration of ingredients, and customized application method can save you hundreds of dollars just over a few years.
Best Long Term Investment
Any time you invest in a professional whitening system, you also have access to regular maintenance to keep your smile bright. Take custom whitening trays for instance. The initial investment does cost more than an over-the-counter whitening set, but you don't have to replace the trays every time you want to touch up. Instead, all you'll need is an affordable refill tube of gel when yours runs out. The refills are usually about half the price of a store-bought whitening kit and you don't have to buy them nearly as often. Most of our patients only need a gel refill less than once a year. When you do the math, custom whitening trays save you money.
Additionally, you'll see teeth that are 6-10 shades whiter after using a professional system like the ones available in our Long Island office. A commercial kit may only whiten your teeth 2-4 shades. So if you're hoping for brighter results, you have to continue re-purchasing products. But even then you may still not see the same level of whitening. Purchasing two commercial systems back to back may provide you with lower-range results seen in a professional application. And by then, you could have easily spent the same amount of money if not more.
The more cost affordable solution is to whiten your teeth with a professional the first time, and then use your prescribed home kit as needed for touching up. We typically recommend 2-3 applications every 4-6 months, depending on your lifestyle and dietary habits. Consistent maintenance keeps your teeth whiter, longer. They also help save you hundreds of dollars throughout your smile's maintenance.
Affordable Smile Makeover Treatment
Cosmetic dentistry comes in all sizes. Some people invest thousands of dollars in their teeth to transform each and every characteristic of their smile. But sometimes the only thing standing between you and a set of gorgeous teeth is lightening their natural color.
Professional teeth whitening is one of the most cost-effective aesthetic services that we provide in our Long Island dentist's office. Erasing years of discoloration can significantly improve the way your teeth look. Especially if they're already fairly aligned and symmetrical.  But if you do need a few small touchups, whitening can be paired with tooth and gum recontouring, as well as conservative dental bonding. The significant enhancement to your teeth is enough for some people to consider their smile makeover a success right then and there (without additional treatment.) That being said, it's still ideal to whiten your teeth if you're considering additional cosmetic services, so that updated restorations can be matched to the brighter color of your brighter tooth enamel.
Since teeth whitening works well as a comprehensive, stand-alone cosmetic treatment, it's one of the easiest and most affordable ways to enhance your best accessory: your smile.
Cost of At-Home vs. In-Office Whitening
Our take-home whitening kits are a few hundred dollars cheaper than our in-office application. So if you're not in a rush and need to stick to a slightly stricter budget, whitening trays are your best choice. But don't assume that the more modest pricing for home whitening means they're less effective. Take-home trays are often the preferred method of treatment for the majority of our patients.
In-office whitening does cost more than a take-home kit, but the advantage is that it provides the same level of results in just one appointment instead of over the course of 10-14 days. So if you're in a time crunch and need to help your teeth look their best as quickly as possible, a professionally-applied same-day treatment is the most cost-effective way to do so. You can still choose to have take-home trays for additional touchups or long-term maintenance, but the primary portion of your treatment is completed in about 1.5-2 hours total.
Keep in mind that if you have any tooth-colored restorations in your "smile zone", they will need to be updated after your teeth are whitened. Ceramics do not bleach out when the whitening gel is applied. This factor can potentially influence the cost of your whitening treatment.
Pricing for Teeth Whitening in Long Island
Sachem Dental Group teeth whitening prices do vary depending on the application method. The first step is determining if your teeth and gums are healthy enough for whitening and then choosing the system that's best for your unique smile. Either option may be appropriate, depending on your timeline and budget goals. Once we've evaluated everything, we'll present the appropriate whitening method and any related fees that are involved.
Whitening is something that fits into practically every smile makeover we offer!
A whiter smile is one of the best accessories you'll ever wear. Call Sachem Dental Group in Suffolk County to get started.